COMMITTEES TO CONSIDER CONSTITUTIONAL AMENDMENTS AND RESOLUTIONS
Throughout the summer, committees appointed by National President Paul Hogrogian will meet to review and establish a full agenda for the 2016 Convention, including possible constitutional amendments and resolutions that may be submitted for consideration by the delegates.
Follow this link to access the full article and learn about procedures to submit proposed constitutional amendments and resolutions. (text)
OBSERVE WORKERS MEMORIAL DAY — APRIL 28, 2016
On April 28, 2016, please remember those who have suffered and died on the job, and please renew the fight for safe workplaces. Speak out for safe jobs. Promotional materials with ideas, event locations search tools and information to assist members is available at www.npmhu.org.
Additional information is available at this link. (text)
NATIONAL CONVENTION UPDATE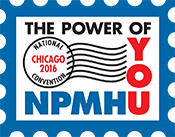 Planning is well underway for the 2016 National Convention, which is scheduled to take place at the Fairmont Millennium Park Hotel in Chicago, Illinois during the week of August 22, 2016. Nearly 300 mail handlers from across the country have been chosen through the Local Union delegate election process to serve as delegates. This body will help to set the agenda of the Union for the next four years.
Follow this link to read the complete article highlighting Convention preparations. (text)