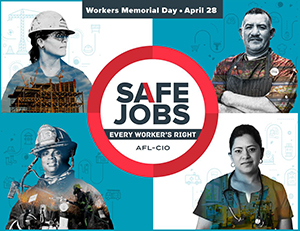 On April 28, the NPMHU joins the Unions of the AFL-CIO observe Workers Memorial Day to remember those who have suffered and died on the job and to renew the fight for safe jobs. This year we will come together to defend hard-won victories by working people from attacks by right-wing Republicans and business groups. We will commit to fight until all workers have safe jobs and the freedom to form Unions to seek a better future. Please join us on Workers Memorial Day as we continue the fight for safe jobs.
WHAT YOU CAN DO ON WORKERS MEMORIAL DAY
Organize a rally to call for stronger safety and health protections. Demand that elected officials put workers' well-being over corporate interests.
Hold a candlelight vigil, memorial service or moment of silence to remember those who have died on the job and highlight job safetyproblems at workplaces in your community.
Hold a public meeting with members of Congress in their districts. Bring injured workers and family members who can talk firsthand about the need for strong safety and health protections, and the freedom to join a union.
Invite local religious leaders and other allies to participate in the meeting.
Conduct workshops to empower workers to report job safety hazards and exercise workplace rights. Invite union members, nonunion workers and community allies to participate.
Create a memorial at a workplace or in a community where workers have been killed on the job.
Invite the press to your Workers Memorial Day events to increase public awareness of the dangers workers face on the job.
Find an Event Near You or Add Your Own